COVID-19 Notice
This page contains helpful information on the COVID-19 vaccines.  We are waiting to receive more information from the PA Dept. of Health on when we could potentially offer a COVID-19 vaccine.
With nearly a third of the U.S. population admitting they may not, or simply won't, get the vaccine, Preferred Primary Care Physicians (PPCP) has teamed up with physicians across the nation in a viral video initiative inciting Americans to "roll up our sleeves together" and help stop the spread of COVID-19.
Watch our video and visit the Roll Up Your Sleeves website for more information.
Answers To Frequently Asked Questions
Getting Vaccinated
Vaccine Safety
About the COVID-19 Vaccine
Additional Resources
COVID-19 vaccine is approved from several manufacturers. This is a very positive step forward in fighting the COVID-19 pandemic.
Things are moving very quickly with the vaccine, and information seems to be changing daily. As we know more, we will update this page and do our best to clearly communicate with you. Keep in mind that vaccine distribution plans are being determined by each state. In most cases, frontline workers and those who are deemed "high-risk" will receive the vaccine first. Plans for a general population rollout is still months away.
Getting Vaccinated
I heard a COVID-19 vaccine is available — when can I get it?
You are correct. A COVID-19 vaccine has been approved for use in the United States. The rollout and distribution will be determined by each individual state and the CDC has set guidelines to help with those decisions.
In most cases, frontline workers — including medical professionals, first responders, or those working in health care facilities — will receive the vaccine first. The next group will be individuals deemed as "high risk," meaning they are of a certain age or have a particular health condition. A general population rollout will come last.
Check with your state and local health departments to see when the vaccine will be available to you.
How can I get a vaccine once it is available to me?
Once the vaccine is available to you as determined by your state, you can get your COVID-19 vaccine free of charge at a convenient location. PPCP has applied with the PA Department of Health to be a vaccine provider which means you could potentially get the vaccine from our office. PPCP currently does not have an official timeline on when we would be able to provide the vaccine to our patients.
The PA Department of Health may set up mass vaccination clinic sites in the future. Please stay in touch with local news, PA Dept. of Health, and CDC websites in case more information is released. If we hear of any of these plans, we will certainly communicate that to our patients as well.
Remember, some vaccines require two doses to be effective, including some of the vaccines for COVID-19. It is extremely important you get both and follow the suggested timeline.
The timeline for distribution seems unclear. How long do I have to wait?
You are right. It is a bit unclear because we are facing so many unknowns right now. Realistically, it may take several more months for the majority of people to receive a vaccine. However, if production increases, vaccines maybe available to most Americans by mid-2021.
Will my doctor need to place an order so I can receive the vaccine?
No doctor order is necessary.
What should I do until I receive the vaccine?
It is key that you continue following safety guidelines: wear a face mask that covers your mouth and nose, social distance, and wash your hands frequently. Talk with your doctor and make sure you're up-to-date on all other recommended immunizations — including your annual flu shot.
How much will a COVID-19 vaccine cost?
The vaccine is free to all Americans.
Why should I get the COVID-19 vaccine?
COVID-19 is a serious, life-threatening disease. It has infected millions of people worldwide and continues to pose a threat to our livelihood. Vaccinating is the safest, most effective way to build protection against this disease. Most people's immune systems react differently to viruses. You may currently feel fine but we cannot predict how your body will react when coming in contact with the COVID-19 virus. If everyone is vaccinated, we will develop "herd immunity," meaning roughly 70% of the population can fend off the disease. Ultimately, this will slow the spread. If we all do our part and receive a vaccine when it is available to us, we can work together to eradicate COVID-19.
Am I really helping my community by getting the vaccine?
Absolutely. Getting vaccinated isn't only about you — it's about your family, friends, and community. Some people cannot be vaccinated because of various diseases or severe allergies. By receiving a COVID-19 vaccine when it's available to you, you're doing your part to keep our society safe and healthy.
After I am vaccinated, do I still need to wear a mask and practice social distancing?
Yes, continue to follow recommended safety practices — wear a mask, social distance, and frequently wash your hands. The vaccine is being distributed in groups. Until the entire community has the opportunity to receive the vaccine, we must continue to do our part to slow the spread.
If I have COVID-19 antibodies, do I still need to receive the vaccine?
Yes, the vaccine is still recommended. Many antibody tests are not specific enough to guarantee that you had COVID-19.
I had COVID-19. Do I still need to receive the vaccine?
Yes, the vaccine is still recommended. The immunity gained from the vaccine may be longer-lasting than natural immunity from the infection.
I already received my flu shot. Do I need the COVID-19 vaccine?
Yes. The flu shot is a great way to protect yourself from the season flu. However, it will not protect you from COVID-19.
Do I have to receive the COVID-19 vaccine?
While COVID-19 vaccination is not mandated, Preferred Primary Care Physicians strongly encourages both our employees and our patients to receive the vaccine. Getting the vaccine as soon as it is available to you is critical to protecting yourself, your loved ones, and the community. You can help bring an end to the pandemic.
Vaccine Safety
When it is available to me, should I get the vaccine? Is it safe?
Absolutely. The vaccine has gone through rigorous testing, received FDA approval, and been approved by several other countries worldwide.
No different than someone receiving a chickenpox or measles vaccine, the COVID-19 vaccine will help to eradicate COVID-19 from our population and keep everyone as safe as possible.
I heard the COVID-19 vaccine received emergency use authorization. What does that mean?
That's correct. The FDA gave the vaccine what's called Emergency Use Authorization (EUA). With millions of COVID-19 cases in the United States alone, EUA was given to make the vaccine available as quickly as possible.
EUA does not mean that safety was compromised or that the vaccine somehow skipped deep analysis and testing. It simply means that this vaccine was prioritized above all others and that multiple steps worked in parallel together. It was a collaborative, all-in effort by the FDA to address this public health crisis and keep our communities safe.
Isn't this a new type of vaccine? How does it work?
Yes, the COVID-19 vaccine is a new generation of vaccine called mRNA. Traditionally, vaccines involve injecting an inactivate strand of a virus into our bodies, triggering an immune response, and preparing our bodies for when the "real" virus comes.
An mRNA vaccine also triggers an immune response. However, it is done through a genetic strand. This strand provides the body with COVID-19 "RNA instructions," which ultimately trigger an immune response and allow our bodies to fight off the virus.
Clinical trials from top pharmaceutical manufacturers are seeing over a 90% effective rate using this new approach.
What are the side effects of the vaccine?
Vaccine trial participants noted mild to moderate side effects — like soreness at the injection site, feeling lethargic, chills, fever, fatigue, muscle aches, and joint pain. While some of those side effects may seem extreme, it is actually quite encouraging. It means that your body has a strong immune response to the vaccine.
Some people have also experienced allergic reactions. If you have a history
of allergies, speak with your doctor first. Side effects are for the most part minor and like many other vaccines in that serious side effects are very rare
Here are some helpful links that discuss potential reactions.
Can I become infected with COVID-19 because of the vaccine?
No, you cannot get COVID-19 from the COVID-19 vaccine. It does not contain the virus. It is an mRNA vaccine. Keep in mind, no vaccine is 100% effective. However, your chances of contracting COVID-19, or developing severe symptoms if you do, drastically decrease after receiving the vaccine.
Should my kids get vaccinated?
While many of the vaccine trials included some older children and teens, the vaccine is not yet approved for infants and children. The vaccine will likely be approved for children at the end of 2021. The Pfizer vaccine is currently approved for ages 16 and over and Moderna is approved for ages 18 and over.
About the COVID-19 Vaccine
I heard the Pfizer and Moderna vaccines were authorized by the FDA. Are there others?
You are correct. As of December 2020, the FDA granted emergency authorization of the Pfizer and Moderna COVID-19 vaccines. Both companies are currently distributing millions of initial doses and will continue manufacturing more. There are several other pharmaceutical companies developing vaccines, but none have applied for FDA approval at this time. Visit Centers for Disease Control and Prevention (CDC) to learn more.
How effective are the Pfizer and Moderna vaccines?
Both the Pfizer and Moderna COVID-19 vaccines are over 90% effective. That means they will prevent over 90% of people from developing symptomatic COVID-19. If you receive the vaccine and are in the small percentage of people who still contract COVID-19, it will minimize the severity of your symptoms. To better understand that number, the FDA set a bar that the vaccine must be at least 50% effective to be considered for authorization. Both companies' vaccines are far surpassing that. For further perspective, annual flu vaccines are 40-60% effective, whereas the two doses of the measles vaccine are 97% effective.
When will the Pfizer and Moderna vaccines be available?
In most cases, the vaccines are currently available to frontline workers. Each state will announce their specific rollout plan. Details on general population vaccine distribution have not yet been determined.
To be effective, Pfizer's vaccine will be given in two separate doses, 21 days apart, with a two-day leeway on either end. That means you need to receive your second dose between 19 and 23 days after your first. The Moderna vaccine is similar. It will be given in two separate doses, in this case, 28 days apart. When the vaccine is available to you, it's important you take the time to get both doses.
Can I choose which COVID-19 vaccine I receive?
Most likely, no. In most cases, a hospital or pharmacy will receive either the Pfizer or Moderna version of the vaccine. Just remember, both are extremely effective and will provide you with ample protection from COVID-19.
CDC Guidelines on Masks.  Click here for details.
CDC – Similarities and Differences between Flu and COVID-19
Visit the CDC online tool for self checking symptoms.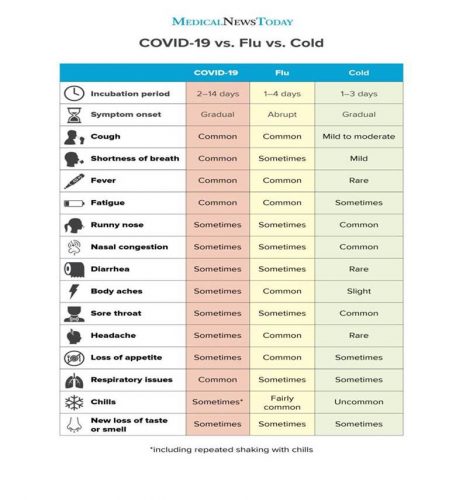 Planning Steps for Patients & Families During the COVID-19 Crisis
Due to the outbreak of COVID-19, Preferred Primary Care Physicians is taking measures to ensure the safety of our patients and staff. If you are experiencing fever, cough, or shortness of breath please call our office before coming to your appointment or coming into the office.
We continue to recommend that patients and their doctors use telehealth visits to help keep you healthy and avoid any possible exposure to the COVID-19 virus. Preferred Primary Care Physicians has the ability to conduct telehealth visits if you have access to a computer, tablet or smartphone with a camera and microphone.  Please call your PPCP physician's office to learn more and schedule your visit today.
You can use the following link (click here) to test your device to see if it meets the requirements to join a telehealth visit.
Things you can do to reduce the spread of respiratory illnesses:
Wash your hands often with soap and water for at least 20 seconds
Avoid close contact with people who are sick
Avoid touching your eyes, nose, and mouth with unwashed hands
Stay at home if you are sick
Additional Coronavirus resources: