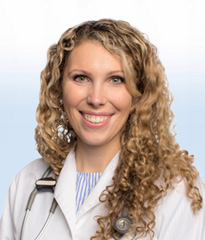 I strive to make sure patients know their problems are heard and addressed. Everyone should feel the best they can through care in our office or at a specialist we recommend.
PROFILE
Location
Noblestown Road (McDonald)

Board Certifications
National Commission on Certification of Physician Assistants
Medical School
Shenandoah University, Masters in Physician Assistant Studies
College
University of Pittsburgh
Affiliations
American Academy of Physician Associates
Emily Johnson, a certified Physician Assistant, completed the Shenandoah University, Masters in Physician Assistant Studies program and she proudly acknowledges ("Let's go, Pitt!") her attendance at the University of Pittsburgh.
Emily's desire to choose a career path in healthcare was prompted by the care she witnessed her father receive when he was ill. "He had an excellent Physician Assistant when he went through cancer treatment. I felt that if I could enhance the quality of patients' lives by helping to guide them through their medical care, I would be honoring my dad forever," she says. Emily and the healthcare team at PPCP believe preventative medicine is the key to a healthy and long life.
In her time away from work, Emily enjoys spending time with her husband, three children and husky dog.