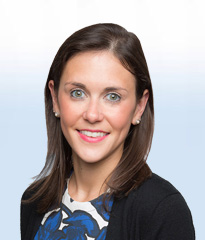 I take great joy in being able to help others. I have seen the positive impact great healthcare providers can make on patients and I strive to make them comfortable discussing their health concerns.
PROFILE
Location
Greentree Road (Carnegie)

Board Certifications
Family Nurse Practitioner (ANCC) | PA State Board of Nursing
Medical School
University of Pittsburgh School of Nursing
College
University of Pittsburgh
Specialities
Family Medicine
Affiliations
PA Coalition of Nurse Practitioners
Jillian Lackner is a Certified Registered Nurse Practitioner and Family Nurse Practitioner. She attended the University of Pittsburgh School of Nursing where she completed both the undergraduate and doctorate of nursing programs. In fact, Jillian graduated first in her class, Summa Cum Laude. Before joining PPCP she held a position in the Trauma/Toxicology Unit at UPMC Presbyterian Hospital.
Jillian believes that a healthy lifestyle is important in promoting a patient's overall health and management of chronic conditions. She strives to educate her patients on the things they can do to achieve a healthy lifestyle.
Her activities include cooking, yoga, running spending time with her husband and children.